"As there's no additional manpower and time to deal with the technical issues of G Suite, the TS Cloud specialists have been chosen."
Summary
Since 2017, when TS Cloud started the implementation and use of G Suite, Asia World Engineering & Construction Co. has found internal communication much easier; it has also saved the company a lot of time for mundane procedures, making every process much smoother. Therefore, the company decided to upgrade their system further to G Suite Business, replacing the limited space of NAS with unlimited storage space, meeting the demand for a remote backup. Here is an interview showing a success story of an increased productivity after the implementation of G Suite.
Client Information
| | |
| --- | --- |
| Company Name | Asia World Engineering & Construction Company |
| Company Profile | In the early stage of AWEC, drilling was their main business. Later, in response to the growing number of projects, the company continued to introduce new foreign knowledge and upgraded its technology and strength. In the 85th year of the Republic Era, the company was upgraded to a Grade A construction company, and its scale continued to expand. Projects of the company include civil engineering, construction, hydraulic engineering projects and geotechnical development. Its concept of practice is focused on a sustainable management with a steady goal. |
| Industry | Engineering construction industry |
| Company Size | More than 100 |
| Year of Establishment | 2017 |
Results
| Before | After |
| --- | --- |
| Uploading of files was relatively slow and a prior connection to the company's NAS was required. | Data transfer is done instantly and is fast. With an account, you can send and receive data anywhere. |
| Communication inside a department must be completed by multiple emails. | Collaboration with the software is easy, any communication related to the files can be done on a one-off basis, and is much clearer. |
| You can only explore the interface yourself if you're not familiar with it. | Specialists teach you how to use the software personally, and provides course training throughout Taiwan. |
Benefits
Why choose G Suite and TS Cloud? The G Suite collaborative tools are highly integrated, and it requires immediate and professional "technical support" after the implementation.
At the beginning, when I first decided to use G Suite and did my first evaluation, I found out that enquiry of information is very convenient with G Suite; for internal communication, it also has a high extent of collaboration. We did need such a software with high integrity to facilitate our communication. Furthermore, I wondered if the employees could get familiar with the system quickly, so I chose Google products that are more commonly used. I was hoping to make them as comfortable as possible when they first used the system. They could also learn how to operate the system faster.
After deciding to use G Suite, I found three resellers for a comparison of implementation. After a thorough consideration, as there weren't additional time and manpower to deal with the technical issues after the implementation, evaluation was based on the principle of "timely provision of technical assistance when a problem occurs". Therefore, we selected TS Cloud as the reseller of G Suite, since it provides follow-up support services for G Suite.
An example of having G Suite applied on work – using a cloud hard drive to allow each site to send and receive data instantly, eliminating the hassle of data transfer.
The most important applications in G Suite are "Cloud Hard Drive", "Docs, Sheets" , and "Calendar". As with the construction industry, there are often scattered construction sites, sometimes even as far as in Myanmar. In response to such industrial characteristics, we pay special attention to the speed and safety of engineering data transmission. The cloud hard drive can tackle the issues of data transfer. We would save more time too. With the drive, on-site engineers can check the drawings immediately. Even if the file is large, they can open and edit it immediately.
In addition, the collaborative operating function between sheets and docs is a great benefit for the company, especially when it is applied on the weekly meeting records of a supervisor. Since there are usually more than a dozen supervisors in each regular meeting, and each of them has a respective project to report and supervise, and at least 20 to 30 projects have to be reported in the entire meeting. With the use of sheets as a record of the meeting and a communication tool, several users can edit it at the same time. Besides these functions, they can also confirm the modified projects immediately, letting each supervisor understand the key projects and their progress in the meeting.
With calendar appointments and reminders, booking an appointment for an internal course or a meeting for supervisors is much easier too. It's because you would know in advance the time slots that are still available. You no longer need to ask for confirmation via an assistant or using email exchanges.
Aside from training and education, the specialists are also dedicated to getting offers for us.
As mentioned above, since there are offices throughout the whole of Taiwan, specialists have to travel everywhere in Taiwan and conduct training after the implementation. When we decided to upgrade our system, the specialist explained to us the new functions added after the upgrade (such as the safe deposit box, shared drive, Google Cloud Search, etc). Not only did the specialist explain to us carefully how we can use every function, and in what circumstances we can use them, but she also applied for an offer for us, which granted us an extra month of use by Google.
For us, no matter if it's before or after the implementation, we did benefit a lot from G Suite. Our operation has become more convenient, and we've had some unexpected benefits as well. When the contract was about to expire, we renewed it without any hesitation. We decided to continue using TS Cloud as our reseller for G Suite.
TS Cloud's comment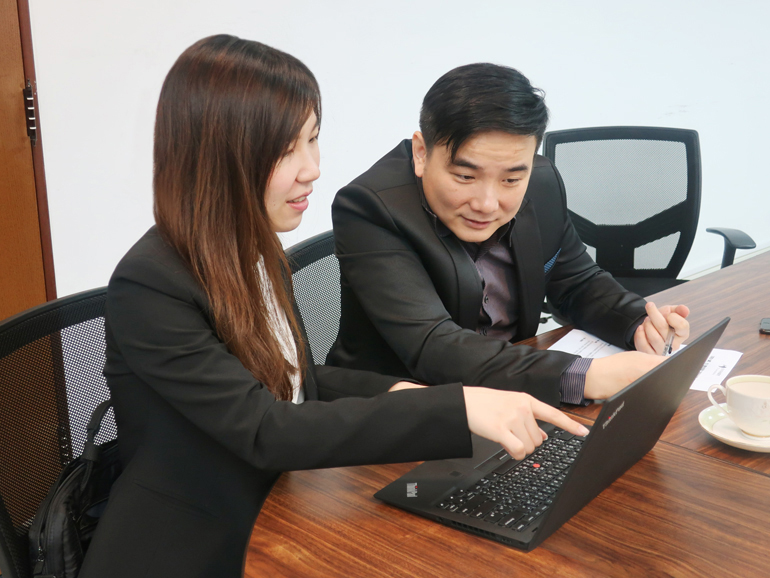 Get started on your free trial!
If you're interested in using Google Workspace