Google Worksapce Invoice Issuance
Google Workspace Invoicing Service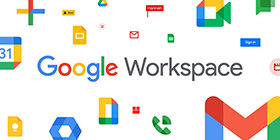 The payment method for Google Workspace is flexible. The number of users can be adjusted at any time so you can create or delete email accounts.
You can choose Google Workspace Invoicing Service from TS Cloud if you want to receive a local invoice, customise the number of users at any time, pay only for the accounts you have that month, and do not need support from the reseller.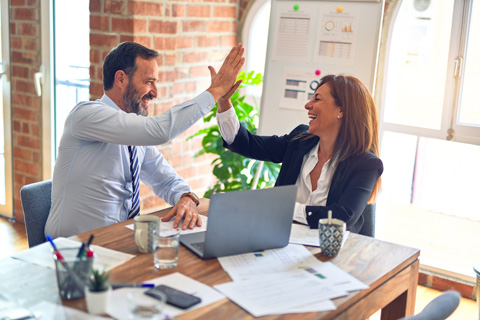 Are you facing these problems?
You are unable to get a local invoice if you buy directly from Google. Also, it involves inconvenience to tie up a credit card where additional cross-country tax charges may apply.
Nowadays, resellers offer only annual plans, but due to the high turnover rate, the unused acocunt is still charged, which is a waste.
It is an inconvenience that every time you create a new acocunt you have to make a request to the reseller.
If the credit card payment fails, the account will be locked and users will not be able to access emails and Drive files, which will affect the work progress.
3 Keys to Success
Pay only for the accounts you have during that month with more flexibility in managing the billing.
➤

Provide local invoice for your company as a domestic transaction. Payment can be made with local currecy, processing fee and credit card are not requried.
➤

No contract, no penalty, and a high turnover rate is not an issue because there are no fees for unused accounts.
➤

In the Admin Console you can add or remove accounts at any time. This makes it faster and more convenient when there is a change of personnel.
➤

Billing is on a "use first, pay later" basis, which gives you a longer payment term so you no longer have to worry about a service interruption due to an overdue bill.

The First Key
No Contract, No Penalty, and No Fees for Unused Account
There is no contract for the invoicing service. Therefore, there is no penalty if you cancel the service. Besides, the subscription term is transparent, so you do not have to worry about the contract term being extended without being informed early or having to pay for unused accounts.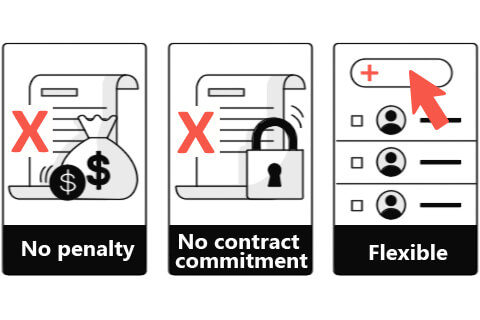 The Second Key
Add or Remove Accounts Based on Your Needs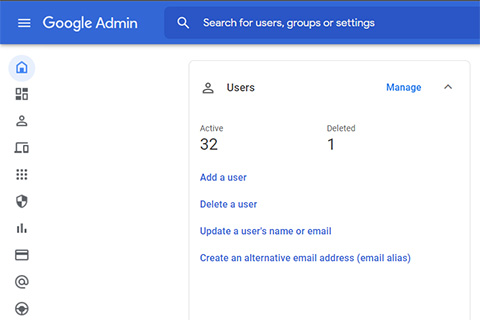 Now you can add or remove accounts in the Admin Console without having to go through the reseller, which is very handy especially in case of personnel changes.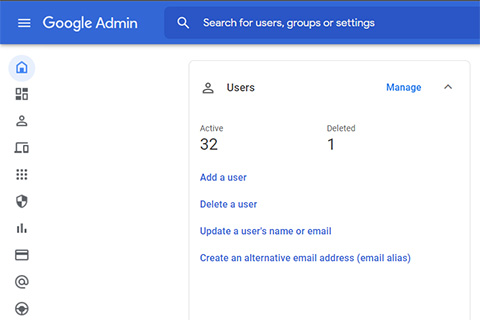 The Third Key
Use First Pay Later, Which Gives You a Longer Payment Period
Typically, Google will send you an invoice on the 2nd of the following month after you use Google Workspace, which will be charged directly to your credit card. At TS Cloud, our specialist will assist you with the payments and related reminders that can ensure smooth use of Google Worksapce acocunt.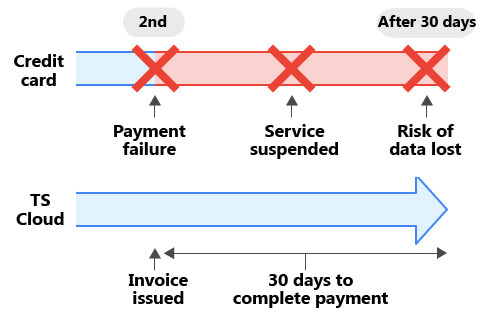 Google Workspace Invoicing Service Application Flow
Online Application
Please fill out the form below and we will email you the contract and related documents. If you have any further questions, please feel free to schedule an appointment with our specialist to clear your doubts!
Agreement Signing
The agreement is about the rights and obligations of both parties and the terms of payment, and there is no binding contract. Once the request is confirmed from your side, please print and scan the document so that we can assist you in further processing.
Transfer Token
It only takes 3 minutes to get the transfer token! The steps for generating the token will be emailed to you, and we will complete the transfer on the date you request. Please note that there is no service interruption during the transfer. If you want to know more details, please contact our specialist who will guide you through the process.
Payment
The first invoice will be issued on the 3rd-5th day of the following month after you start using Google Workspace at TS Cloud. Once the invoice is confirmed, you will have 30 days to complete payment, providing you with more flexibility and convenience in payment processing.
FAQ
QWhen is the invoice issued?
A
The invoice is issued on the 3rd-5th day of the following month. If this day falls on a weekend, the invoice is issued the next working day.
QDo you offer paper invoices?
A
Since we want to reduce waste and follow the paperless policy, we provide electronic invoices by sending them via email.
QHow can I pay? What is the payment deadline? Are there any special notes?
A
Payment can be made by online bank transfer. Invoices are issued monthly and payment must be made within 30 days of receipt of the invoice.
QDoes the transfer to TS Cloud have any impact on the existing Google Workspace account?
A
There is no service interruption in email delivery or data loss during the transfer process.
QIs there a minimum invoice amount?
A
For internal cost reasons, if your monthly Google Workspace bill is less than HKD$700, we will bill you directly for the this specific amount. We apologize for the inconvenience.
QI have paid for the Google Workspace subscription by credit card. Will it be charged after I change my billing to TS Cloud?
A
After the transfer, the subscription fee will no longer be charged directly to your credit card. However, please note that the payment method for Google is "use first, pay later", where the subscription fee with Google will be charged to your credit card. For example, the subscription fee will be charged to your card between 1/1 and 14/1 if the transfer is made on 15/1.
QCan I cancel the Google Workspace service during my subscription?
A
Yes, you can cancel it at any time as it is not an annual subscription. However, please let us know the date of cancelation and we will help you transfer the existing Google Workspace account back to Google (billing must be done via credit card).
QDo you offer technical support?
A
Google Workspace Invoicing Service is available for invoicing questions only. If you need technical support, it is recommended that you purchase an annual subscription.
QDoes GCP also offer the same service?
A
Yes, the same service is offered with no contract commitment, no penalty, and no processing fee.
You are welcome to switch to TS Cloud from other resellers/Google!
Contact us now!

3163 2520
(Weekdays: 09:00 -17:00)