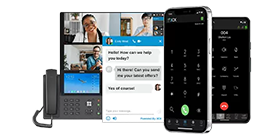 The Cloud PBX Makes the Call No Longer Device and Location Bound. As Long as There Is a Network, You Can Dial the Company Number at Any Time.
You can receive calls at your own extension as long as you have a connection to the Internet. You can also use the company number to dial out, so you can easily contact customers. If you work remotely, the device is no longer a problem. With a cloud phone system, you can streamline internal communication and the way a company works.
Do you have these problems?
There is no way to answer/dial the office phone number when you are out of the office, which is very inconvenient to contact customers.
Customers complain about not being able to call or being hung up on directly when the line is busy, which can result in a loss of customer convenience.
The CRM system is not integrated with the phone system, and there is no way to identify who is calling from the display.
Time-consuming when phone settings or extensions need to be adjusted as you wait for the service provider's available time.
3 Keys to Success
Stop letting your phone system block in the way of your company's digital transformation by moving your phone system to the cloud.
➤

You can use your company's phone number to make calls, even if you work in a different location, as long as you have internet.
➤

Recognize the customer's name as soon as a call comes in when the phone system and CRM are integrated.
➤

The management console is easy to manage yourself, even if you have no prior technical knowledge.

The First Key
Regardless of location or device, you can use the company's extensions as long as you have Internet.
3CX Phone System uses a network connection instead of a wired connection, so it's not tied to phone lines and desk phones. Even when employees are out of the office, they can call using the company phone number without the need for an additional connection via VPN.
In addition, if the volume of incoming calls is too high and the customer often waits on the busy line or gets hung up. With 3CX, you can use the queuing feature to set the queuing order and waiting time to give customer service more buffer time to handle the calls which eventually avoid customers not being able to answer or getting hung up directly.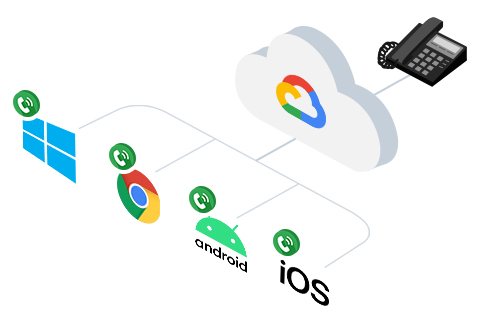 Companies With Multiple Locations Can Share the Phone System Without Having to Purchase Additional Equipment.
Because all of the company's offices can use the same 3CX phone system, each office does not have to buy its own phone server and worry about pulling cables and maintenance costs. The IT staff can centrally manage without having to switch between different management consoles. In addition, employees can call each other's extensions between different branch offices for free.
3CX Can Be Used Through Laptops or Smartphones, and There Is No Charge on Your Personal Phone Bill.
In addition to the above benefits, using the cloud phone system allows colleagues to work remotely without having to bring an additional official mobile phone. After you install the application on your mobile phone, you can set the company number to dial and receive calls. Of course, the costs will not be charged to your personal phone bill. In 3CX Management Console, you can view the call logs in real-time, and there are call records that can be used for tracking purposes as well.
The Second Key
Get Notified on the Caller Details Through Integration of 3CX With CRM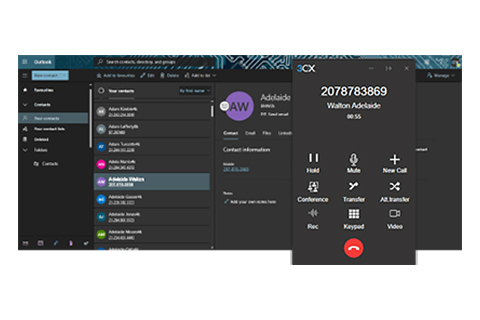 3CX provides a list of integration tools that you can download and use for your business. If the phone system is connected to an existing CRM, when a customer calls, you can see the customer's name directly on the call display. If you are using a laptop, the corresponding customer page will be displayed as soon as you answer the call. Even if the person in charge is on vacation, another colleague can quickly check the customer's progress and needs on the page while on call. This helps to build a good rapport with the customer in the initial contact phase. And if your company uses Pipedrive as a CRM for your business, we offer the integration service free of charge!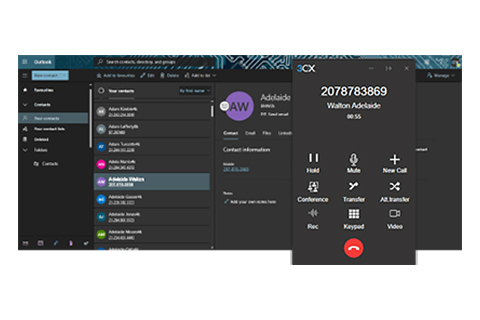 The Third Key
Manage the Phone System Yourself Without Relying on Third Parties.
You can use the 3CX management console even if you do not have a technical background. When a new employee is hired, an extension can be created immediately without having to wait for the service provider to set it up for you. For the other features, such as "Ring Group", you can set the same department as the same group so that the appropriate calls can be routed directly to the appropriate group; the "Call Queues" setting allows you to queue calls so that employees can answer calls accordingly when they are available.
In addition, you can set the "Digital Receptionist" yourself. Customers who dial-in can be routed to different extensions based on the digital receptionist options menu. The recording can be replaced at any time if necessary. The "Digital Receptionist" function is used to divert calls and the telephone line is no longer congested.
Is 3CX is suitable for my company?
Suitable

If you do not need hardware and are looking for cloudification.

If your internet connection in the office is stable.

If you need a complete phone system for 10 users or more.

If you prefer to manage the phone system yourself.

It is acceptable to change the office phone number.
Not Suitable

If you prefer hardware and are not looking for a cloud solution.

If the office internet connection is unstable or it is located in a remote area.

If you need basic phone functionality for 5 users or less.

If you prefer to let third parties manage the phone system.

It is not acceptable to change the office phone number.
3 Steps for Implementation
Understand the Customer Needs
Our specialist will contact you by phone or email to understand your needs.
Proposal and Quote
We provide you with the best solution and a cost estimate based on your business needs.
Environment Testing
We check the status such as the quality of calls and the stated requirements in the test environment.
Reference (Approximate Cost)