G Suite Legacy Free Edition Will Not Be Available Starting August 1, 2022!
2022.05.25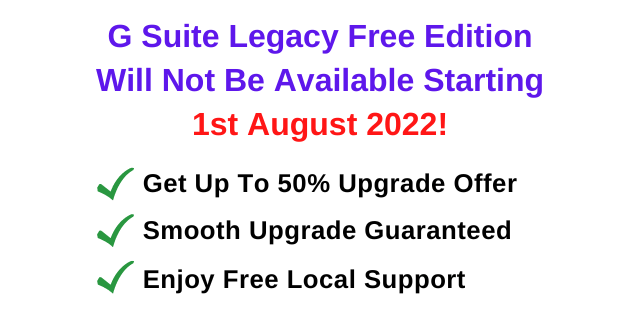 Best Deal for G Suite Legacy Free Edition customers – TS Cloud offers exclusive upgrade discounts and FREE 1-on-1 consulting service to help you choose the edition of Google Workspace that best fits your business needs and guarantees a smooth transition without worrying about service interruptions.
The Promotional Price Offered by TS Cloud Is Valid Only Until July 20, 2022.
Limited to First 100 Customers
Low Price Guaranteed
Seamless Upgrade
Block your offer now by submitting the form below:
*You can get up to 50% discount for 20 user accounts and above!
The promotion has ended. If you want to learn more about Google Workspace, please fill in the inquiry form and our specialist will contact you as soon as possible.
https://en.tscloud.com.hk/contact
More News